Document Management
 As modern business becomes global, it is very important that your information keeps up with you. The Digimate document management software makes that easier than ever, allowing you exceptional freedom, simplicity, flexibility and security to manage and work on your documents from any location.  Any authorized person can create, view, edit, share, control and manage your documents safely and securely anytime and anywhere.
Businesses generate a tremendous amount of paper and digital content. Proposals, announcements , Memos , Office Notes ,  customer profiles, human resources related documents, financial reports, forms , etc  are generated every day. The fact is that, most organizations cannot effectively manage the vast number of documents without good document management software.
Digimate aims to solve this problem by Scanning , storing, tracking, retrieving and managing documents electronically thereby providing a cost effective solution to save time and space. Digimate has a simple Electronic Cabinet , Sub Cabinet  and Folder filing structure. This facilitates the user to organize the document in a way that suits him the best. It also facilitates complete departmental filing system.
 Workflow
 The integrated Workflow Management Software built into Digimate will help you manage your documents and business processes more effectively than ever.
This powerful software will allow user to create complex workflow scenarios to streamline your business processes. User will be able to automate a business process, where a generated document will be passed from one user to the other via email notifications and task assignments. Each user(s) in the path of the defined workflow will be able to perform a variety of tasks such as Review , Approve , or Reject a document, edit attached documents, add attachments, fill forms and much more before passing to the next person(s) in the path.  It also helps in proper tracking and auditing of business processes and document handling.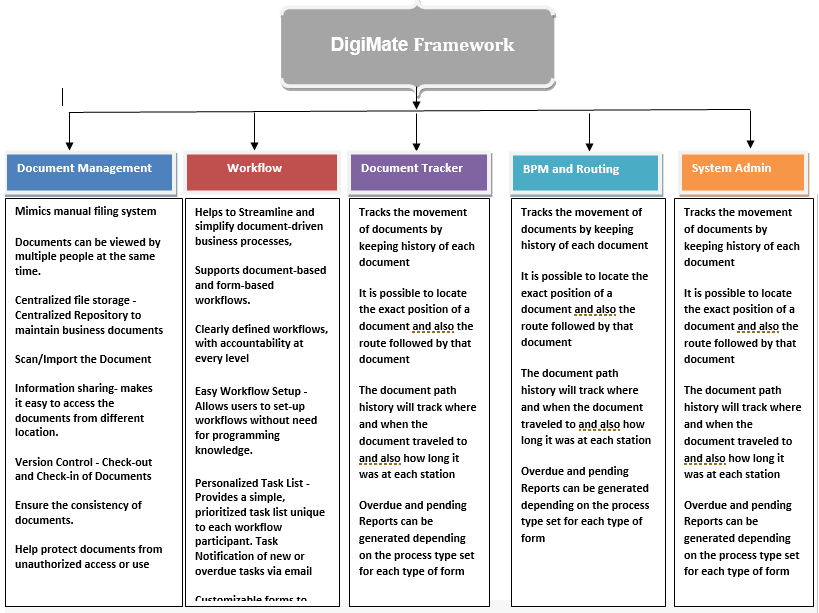 Correspondence and File Management
 Correspondence management is one of the biggest challenges in any organization.  Since this is normally a manual process, it is fraught with all the problems relating to file creation, storage, retrieval, movement and tracking. By providing an integrated solution with Capture, Organization, Indexing, Search, Retrieval and Workflow functionality, Digimate helps in all steps of the correspondence and file management.
Digimate Correspondence System includes Inward Transaction, Outward Transaction, File-Code Management, Correspondence Tracker and other related modules.
Digimate can be used to capture paper documents (through scanning), electronic documents, fax messages as well as Email Messages into a Central Document Repository. The documents captured can be organized into logical folder structures and indexed with appropriate attributes (like date of correspondence, sender, addressee, subject etc). The inward correspondence can be assigned to specific users/departments for further action. All users along the chain can put comments/annotations and also take appropriate actions (like approval, rejection etc). A trail of all these is maintained in the system and powerful reports can help in providing useful MIS reporting to heads of Government Departments.